Dog Friendly Beaches in and around Torquay
Torquay and the areas near to it have a wonderful array of beaches and coves which are perfect for visitors wanting a dog friendly holiday or break. On offer are stretches of flat sands perfect for dogs to romp around and let off steam as well as secluded coves which are perfect for exploring as part of a longer walk.
Some beaches are dog friendly all year round whilst others prohibit dogs from 1st May to 30th September. Our dog friendly self catering accommodation is perfectly located in the centre of Torquay to take advantage of all of these beaches.
The Muntham Apartments and Town House are to be found in the beautiful Wellswood area of Torquay which is just a short five minute drive to the centre. On offer are luxury studios, one bedroom apartments and the fabulous three bedroom town house which comes with its own private garden and terrace and hot tub. A short distancce from Muntham is The Braeside Apartment which offers exceptionally spacious two bedroom accommodation.
In the Meadfoot area of Torquay, we have The Stables Apartments which are just a five minute walk from the beach and are even closer to spectacular clifftop walks.
We also have our Ellington Court Apartment which is situated in the St Luke's area of Torquay. This is a magnificent two bedroom apartment with both bedrooms ensuite. It has been fully refitted and offers superb dog friendly accommodation in a very central, yet quiet location.
Listed below are just some of the wondeful beaches in and around Torquay that you and your canine best friend could be enjoying right now..
Torre Abbey Sands.
This beach is parallel to the main seafront road and almost completely disappears at high tide. At low tide a large area of flat sands is exposed. Access is via steps down from the promenade or via a ramp slip way at the eastern end of the beach.
Dogs are welcome here except from 1st May to 30th September and aside from the banned months it is extremely popular with dogs as a place to socialize and have fun. Our Ellington Court Apartment is perched just above the beach in St Luke's Road and so it is just a seven or eight minute walk away.
There is metered seafront parking as well as a nearby car park at Shedden Hill. There is also a high frequency bus service running alongside the beach on the main road. There are toilets nearby on the promenade as well as a number of superb cafes, bars and restaurants at the nearby Abbey Sands Development. Most of these are dog friendly and allow them inside one or two such as Las Iguanas only allow them at the outside tables.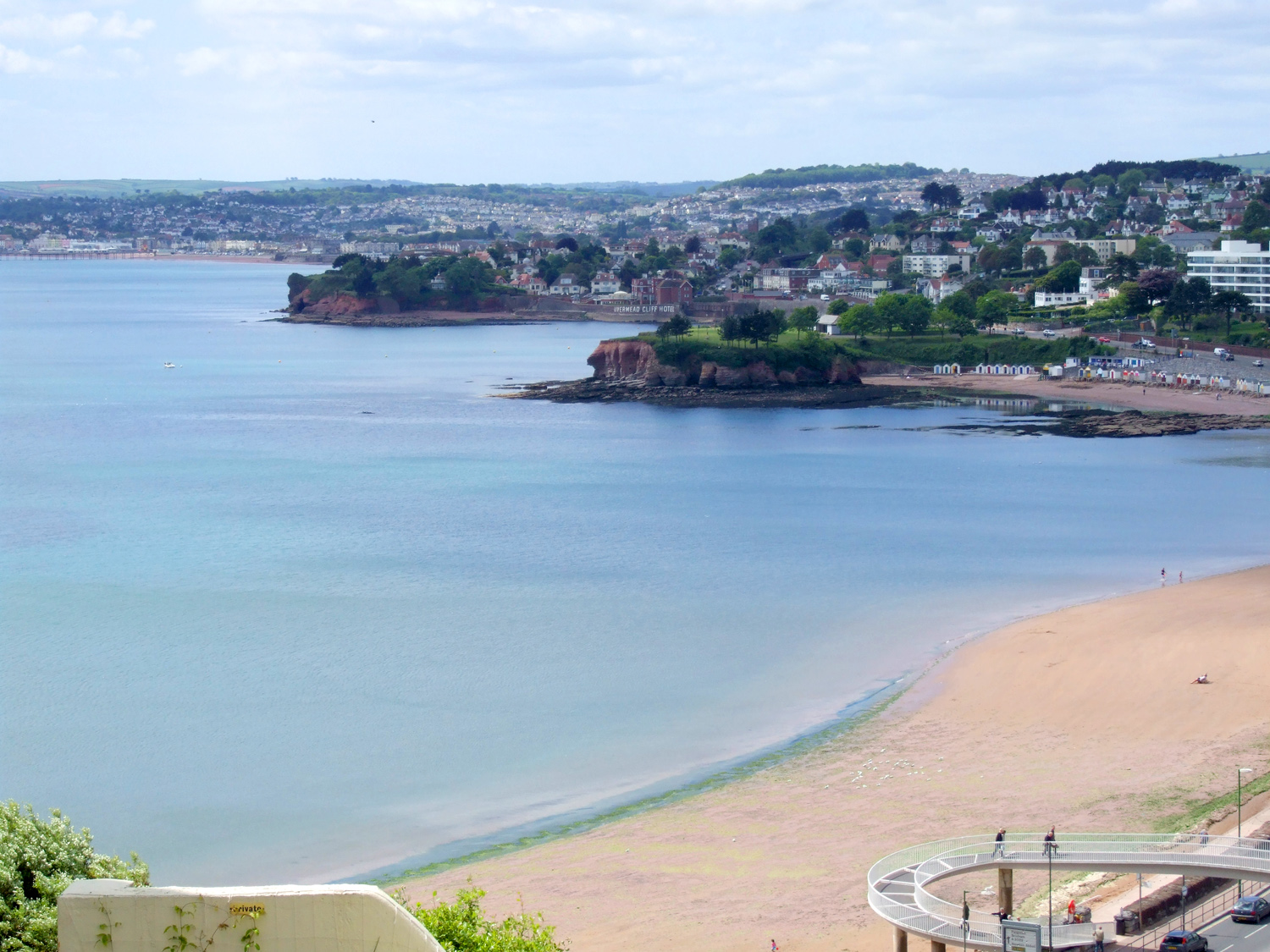 Watcombe Beach
For visitors wanting a totally different experience there is the secluded and much less busy Watcombe beach. This lies a little to the north of Torquay on the edge of St Marychurch. The beach is an almost perfect crescent of sand surrounded by steep wooded hillsides which give it the feeling of an ampitheatre.
There is a car park from which visitors must then walk along a track down through the woods. This is a long and quite steep path and it is really only for the fit (coming back up is a great cardiovascular work out in its own right). The beach at the bottom is wonderful though and there is a cafe which operates seasonally. There are toilets just above the beach too.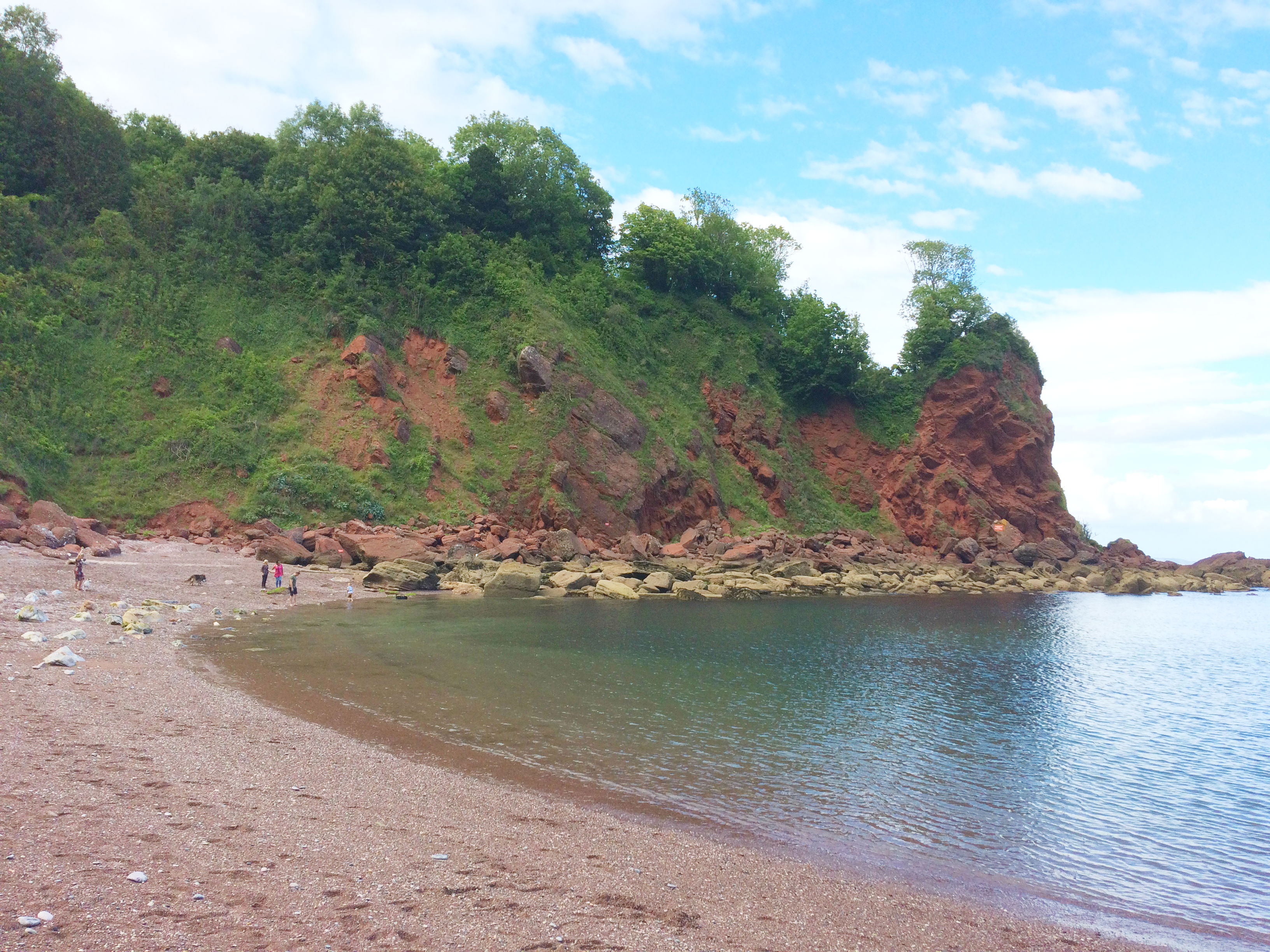 Meadfoot Beach.
Set on Meadfoot Bay there are a number of little beaches. The main one is at the western end of the Bay and this is where there is a fantastic (and dog friendly) beach cafe which is open all year round (Meadfoot Beach Cafe)
The beach is quite small particularly at high tide. It is accessed via steps which are quite steep. When the tide is not high it is also possible to access the beach via a slip way ramp. There are toilets at this end of the beach. This section of beach is not open to dogs from 1st May to 30th September (although the beach cafe remains dog friendly all year). For the main part there is free parking along the road. Along the bay at the eastern end is a pay and display car park and a section of rocky / pebbly beach which is dog friendly all year. Click here for a map of Meadfoot and Babbacombe Dog Friendly beaches.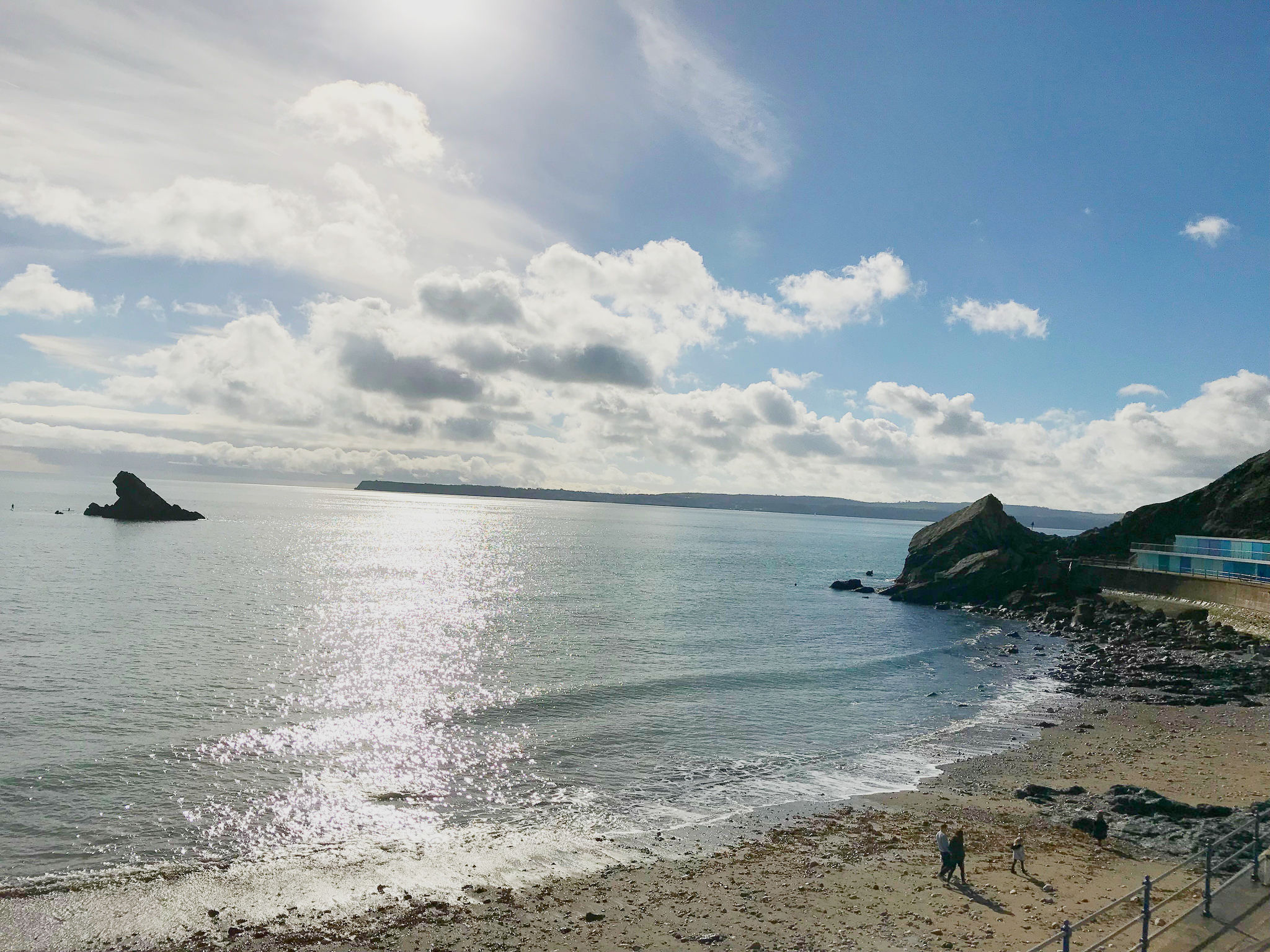 Goodrington Sands
This beach lies just to the west of Paignton on the road to Brixham. At low tide there is a large expanse of flat sands. At high tide much of the beach (but not all) disappears. There is a car park right nexrt to the beach and there are toilets, cafes and beach shops close by too.
The site has an added attraction that the Dartmouth Steam Railway passes very close by. Between 1st May and 30th September the southern section of the beach does not allow dogs but the northern section does. Access to the beach is easy and flat.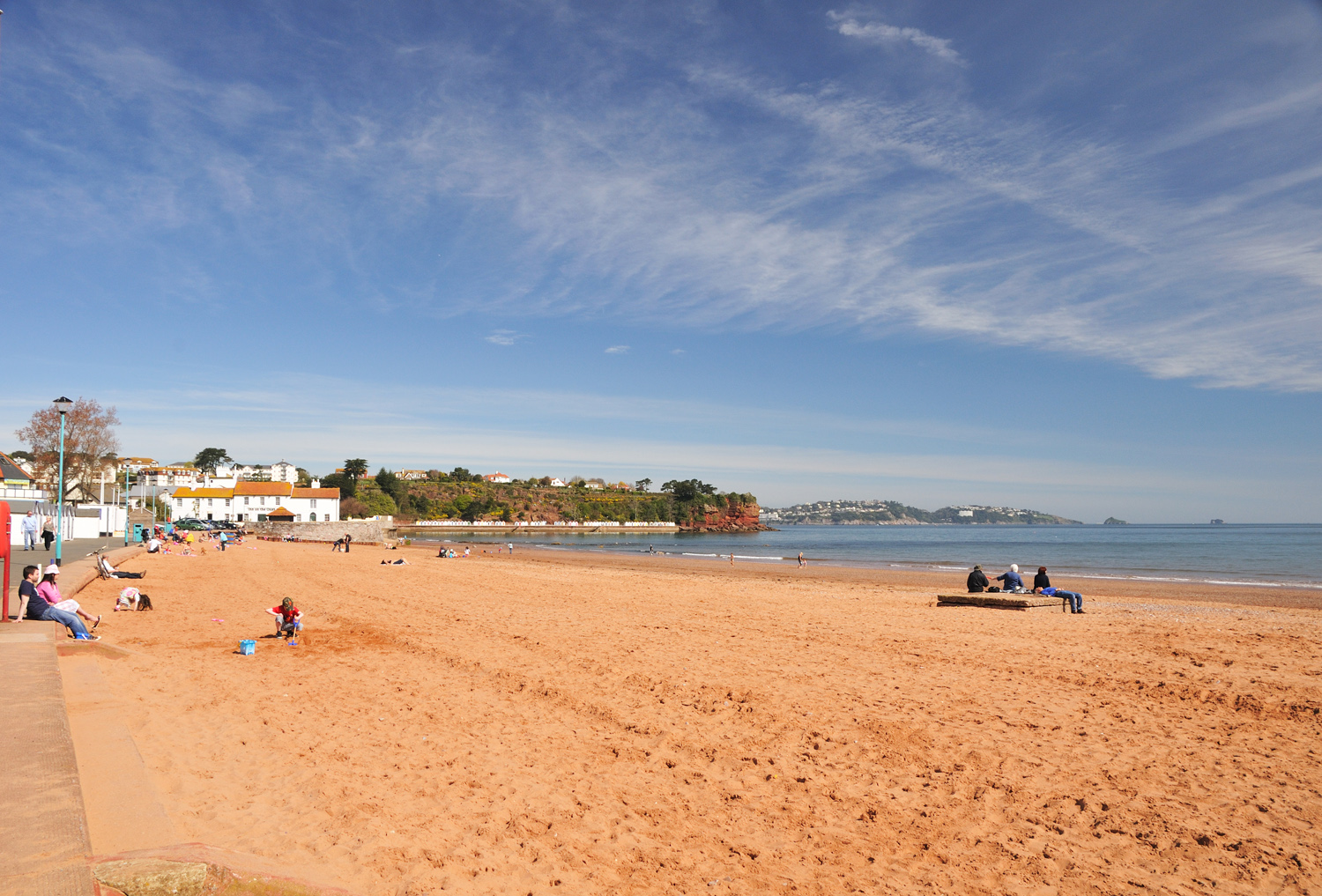 Babbacombe Beach and Oddicombe Beach.
Set at the foot of the cliffs below Babbacombe Downs this is quite a small beach with fine shingle. Access to it is via a very steep road at the bottom of which is a small car park. The Cary Arms is nearby but they try to discourage non residents with extremely high prices for drinks and food.
There is an undercliff walk way to the neighbouring Oddicombe beach. This beach allows dogs except between 1st May and 30th September. The beach is served by the magnificent Babbacombe Cliff Railway which welcomes canine passengers. There is a fantastic restaurant on the beach which allows dogs on its outside terrace all year round. It is called Three Degrees West.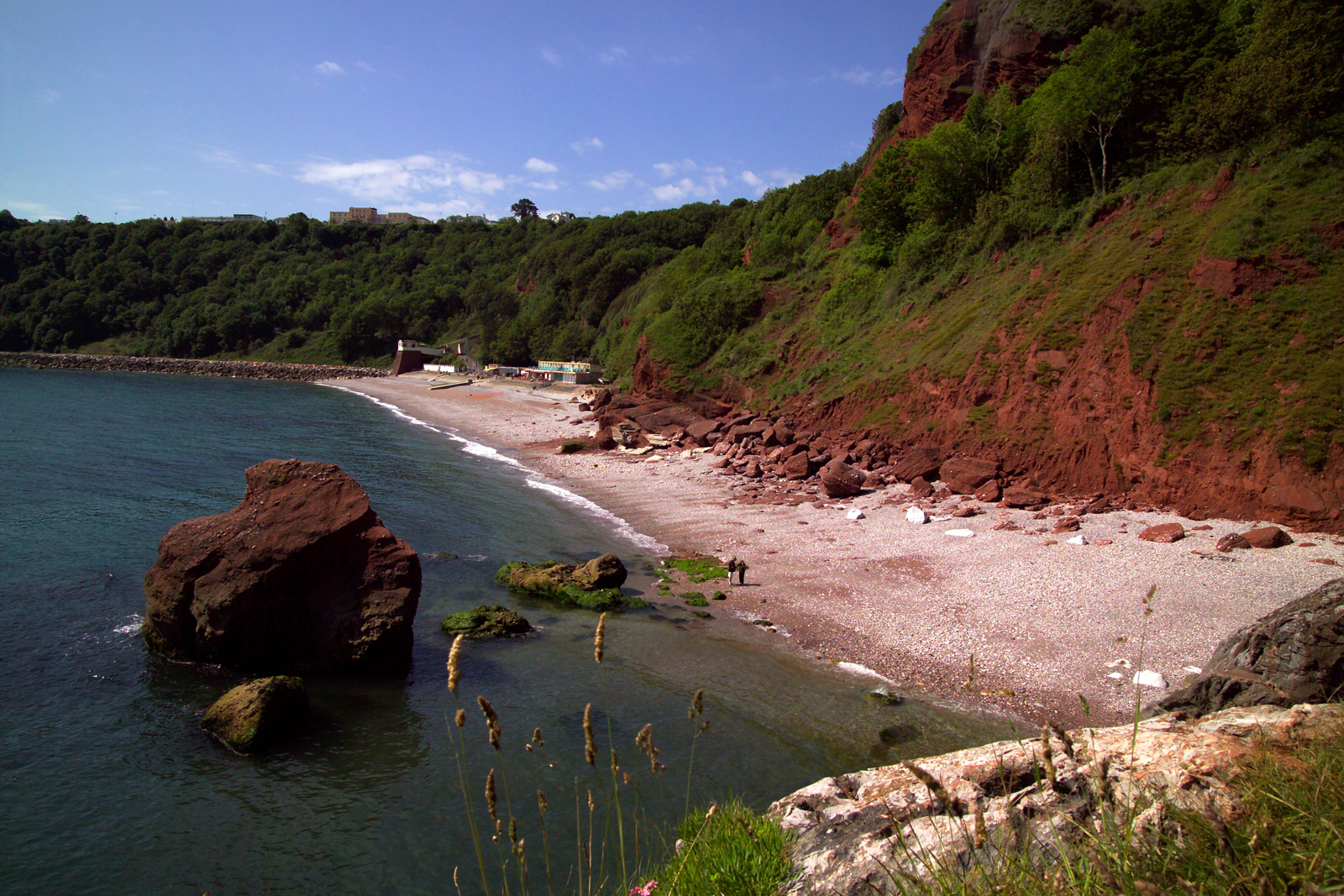 Anstey's Cove.
This lies between Torquay and Babbacombe close to the Wellswood area of Torquay. The cove is reached via a steep path. It is much shorter than the path down to Watcombe beach but does still require a real degree of physical fitness, Once at the bottom there is a pleasant pebbly and rocky beach above which is a reasonable sized flat area where there is a very pleasant beach cafe that operates seasonally.
There is some wonderful coastal scenery here and you are very close to the South West Coast Path. There is parking at the top of the path leading down to the cove, This is operated by the Torbay Coast and Countryside Trust.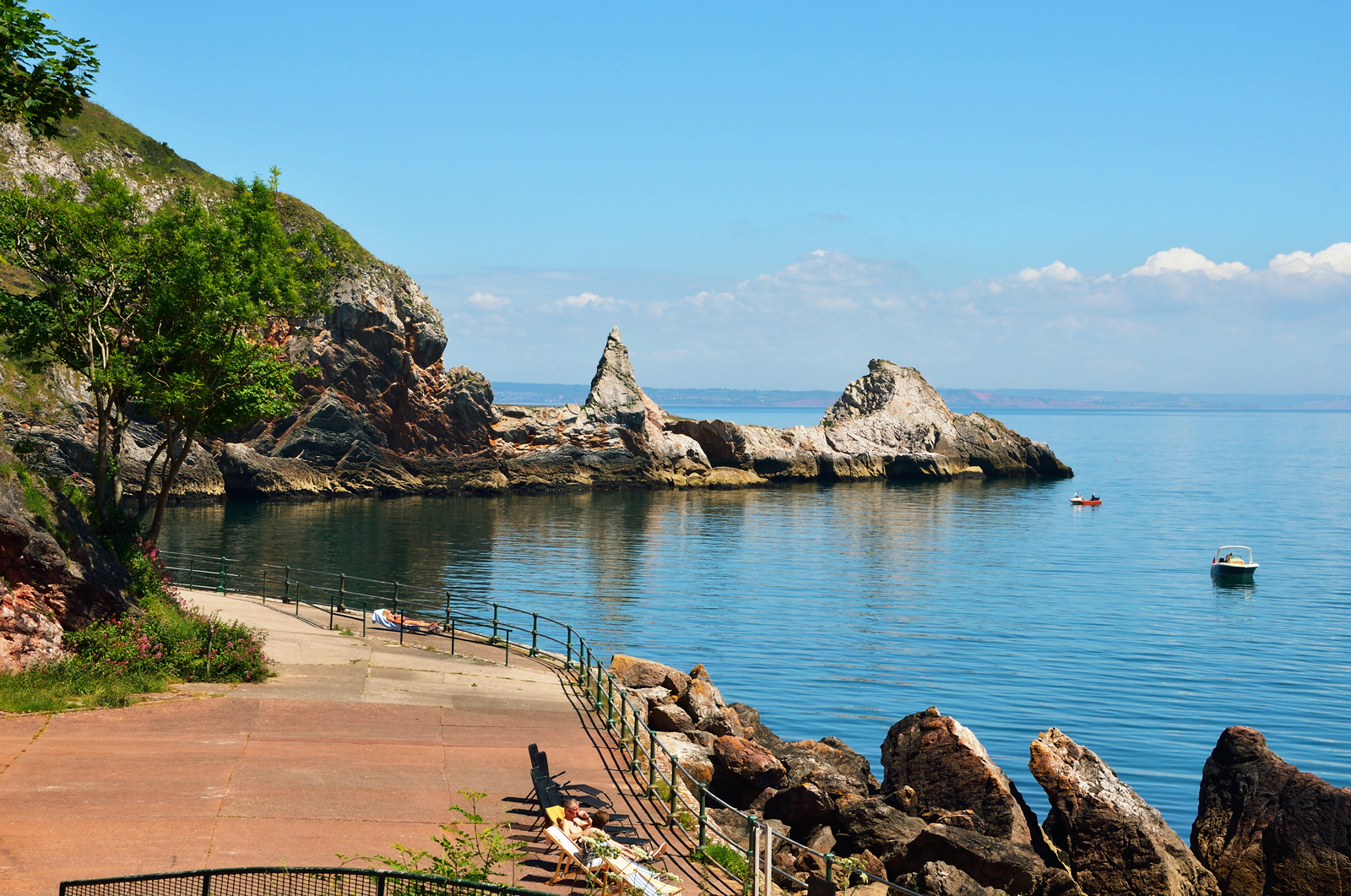 Teignmouth Beach.
A fifteen to twenty minute drive from Torquay, Teignmouth has a long seafront with wonderful red sandy beaches. Along the length of the prmoernade are steps and ramps that lead down to the beach. There is plenty of parking nearby although in the height of the season it is necessary to find parking spaces in car parks away from the seafront.
Dogs are welcome the entire length of the beach front between 1st October and 30th April but are only allowed on the eastern end of the beach in the remaining period. Even so, it is an extremely generous amount of space especially when the tide is out and there is a massive amount of flat sandy beach. At the eastern end of the beach there is the added interest that the main train line to the west country runs right alongside.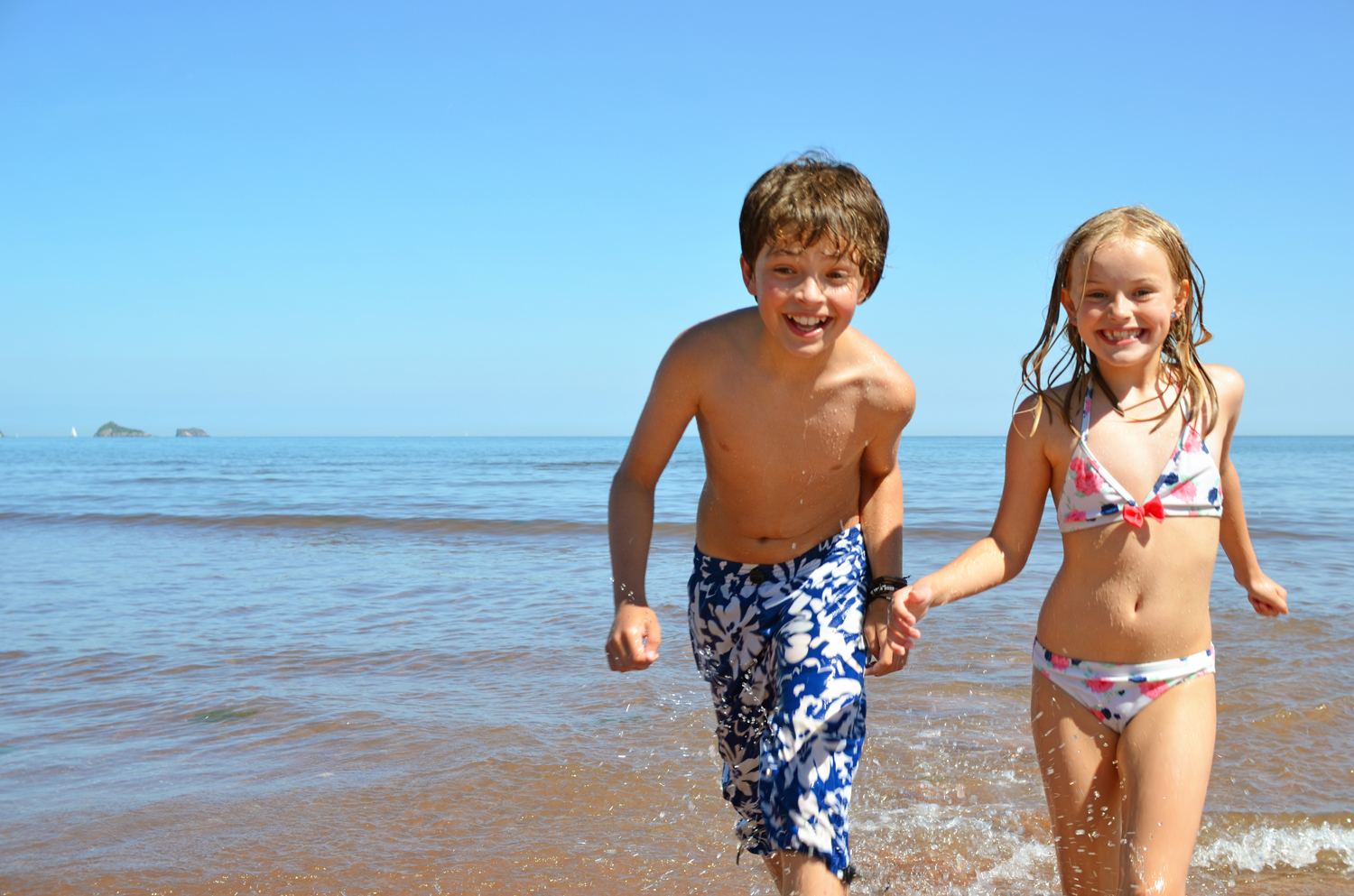 Hollicombe Beach
Just off the main coast road and between Torquay and Preston this beach is accessed via Hollicombe Park and under the railway through a short tunnel. Great sandy beach especially when the tide is out. Dog frendly between 1st October and 30th April. There is on road parking nearby but this is quite limited.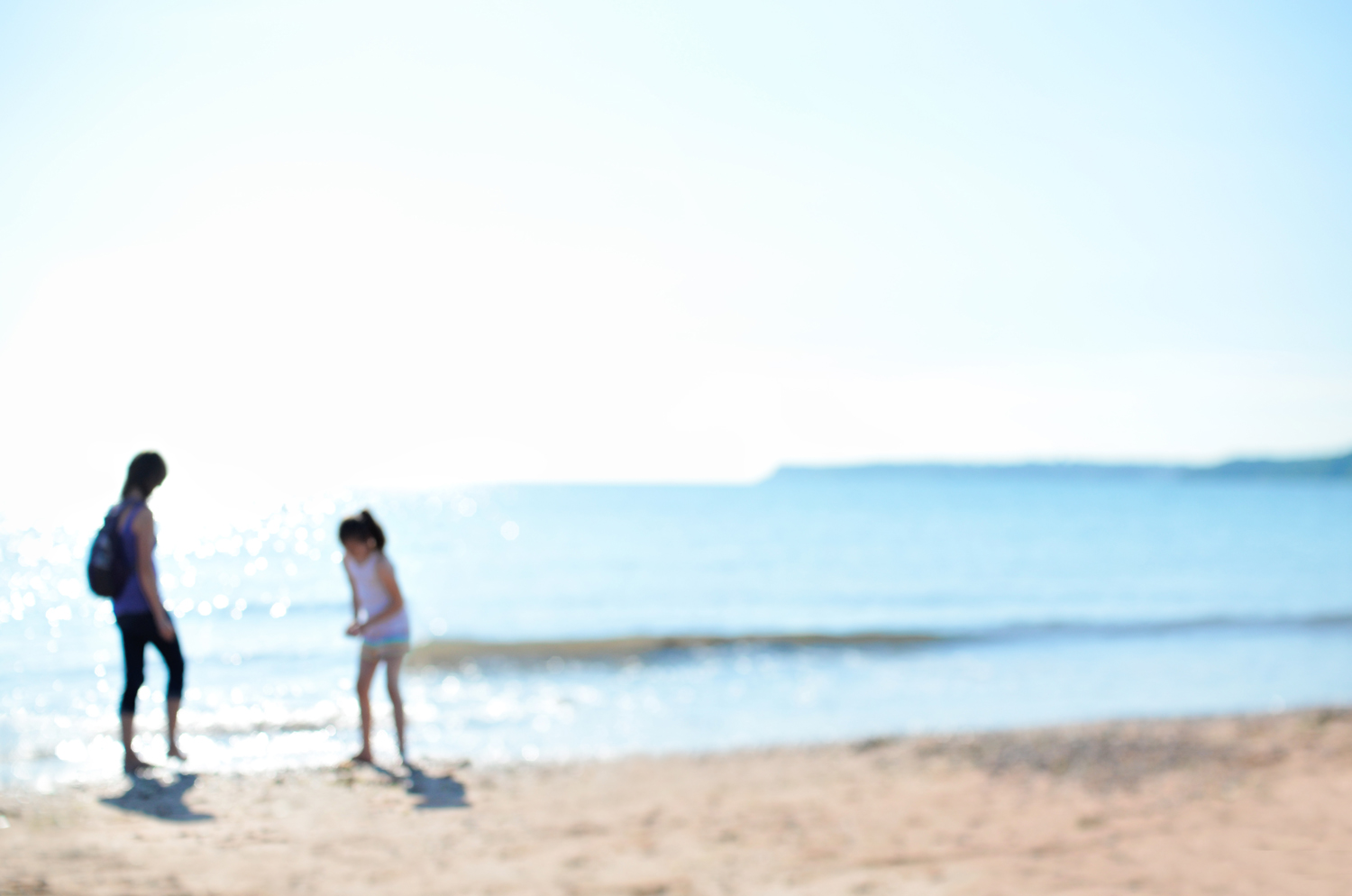 Bigbury On Sea
This is a glorious place to bring a dog especially when the tide is out revealing miles of flat sands. This is about a 45 minute drive from Torquay but is worth the effort as it is glorious. There is plenty of parking although it can get very busy in the summer months. There is the added interest of Burgh Island which was Agatha Christie's inspiration for And Then There Were None as well as Evil Under the Sun. In the summer months dogs are restricted to certain part of the beach but even so the space is enormous.There are toilets and a beach cafe (Venus Cafe) which is open all year round.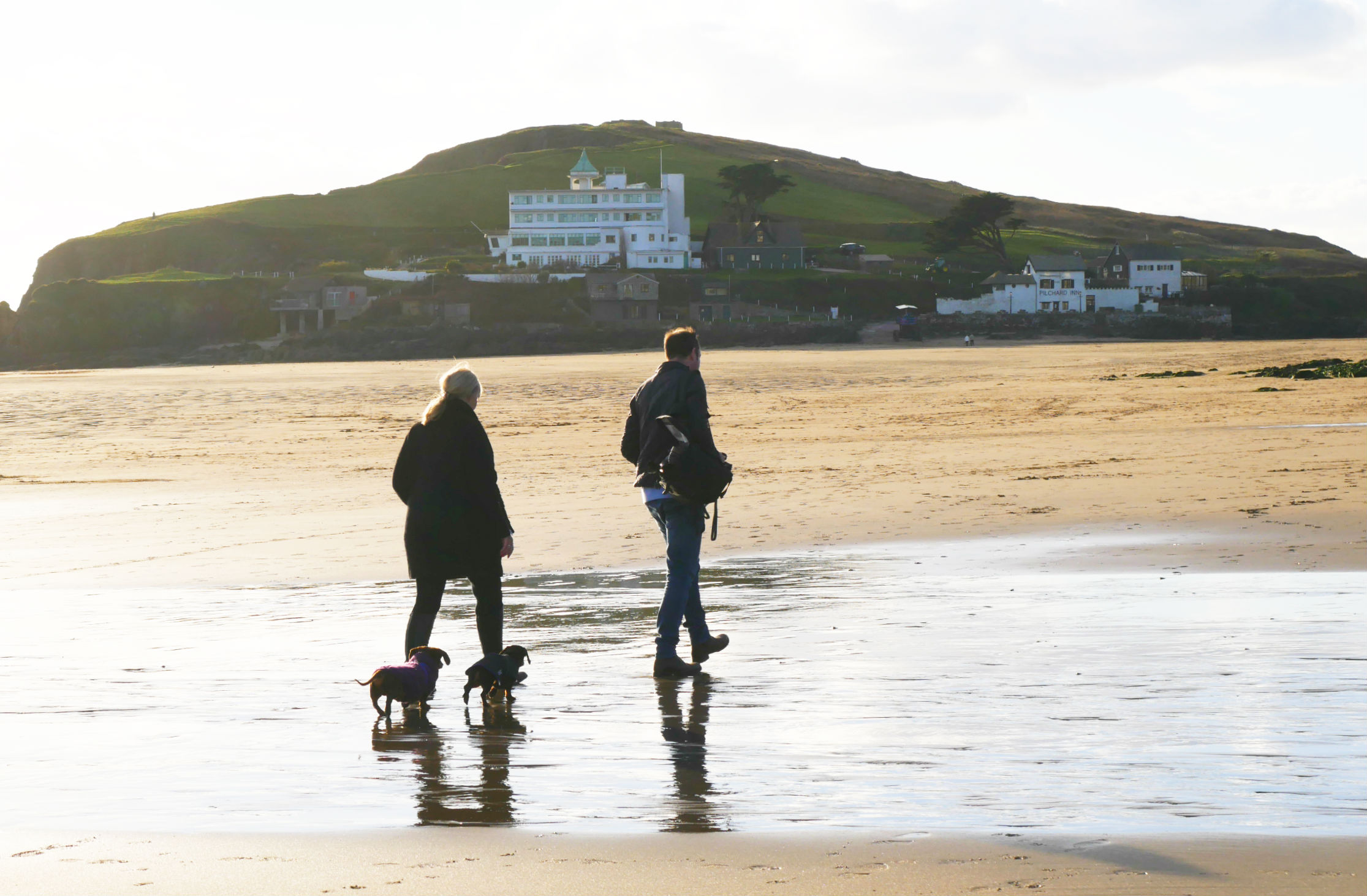 Check availability and rates at our Dog Friendly Holiday Apartments.
For more information about our dog friendly accommodation in Torquay, please click on one of the links below. You will also be able to to check availability and prices and to book. If you book direct with us you will get the cheapest prices anywhere online and won't pay additional booking fees. Click here to see the full benefits of booking direct.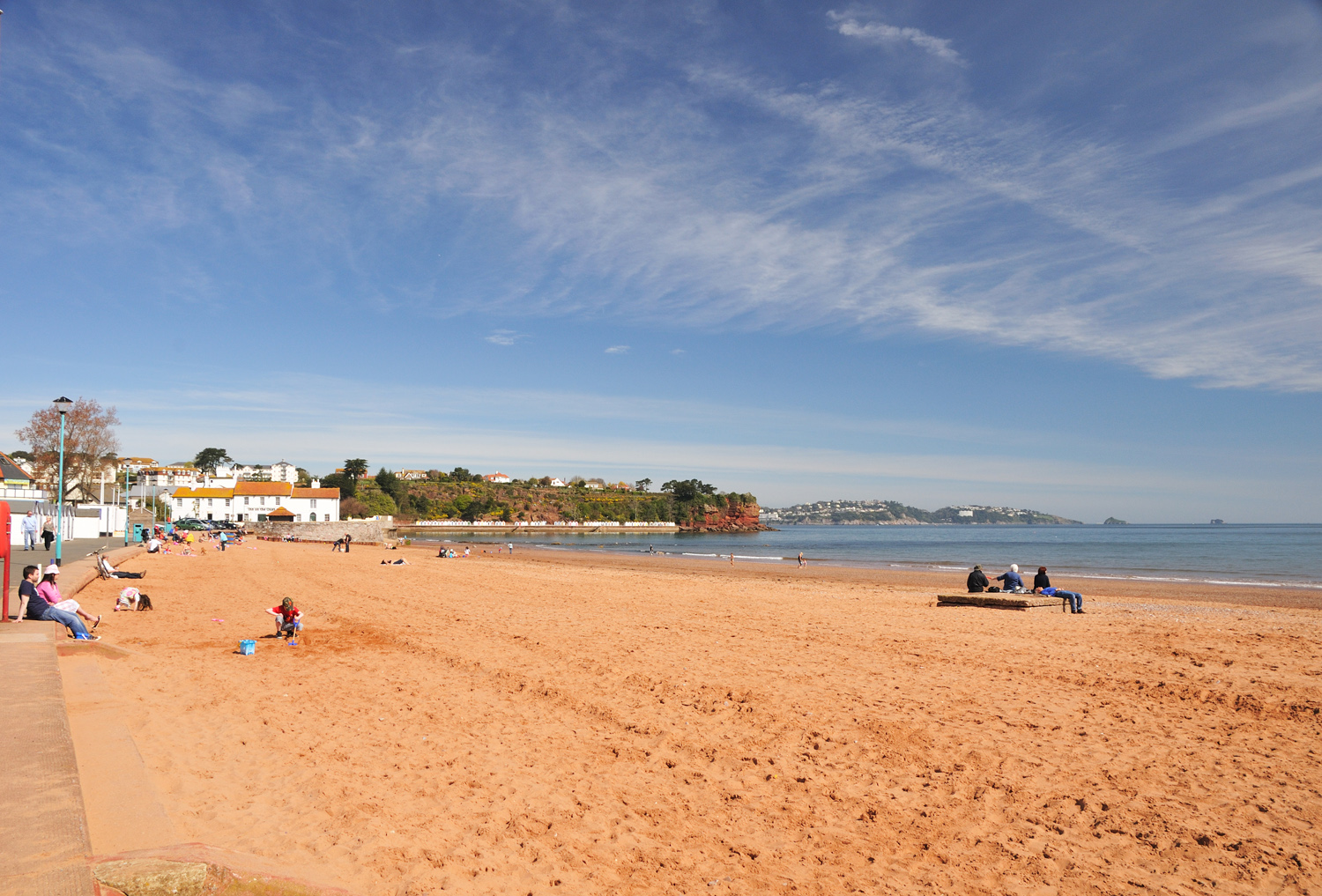 ---
Planning a last minute break?
Check what the weather in Torquay is up to at the moment.